Loopsy for Playdate
Version 1.2 (Leaderboards)
---
Version 1.2 Change Log:

New online leaderboards!
5 New puzzle levels
Added game tips screen

Added animation to game card
Added sound for piece rotation
Updated about screen layout
Updated title screen logo
Bug fix for piece spawn rotations
Bug fix for slowdown with large loops
Global Online Leaderboards: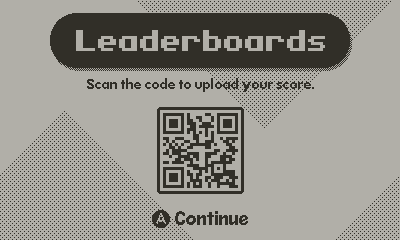 After the game over screen a unique QR code will be generated with your score
Scan the code with your phone to open the unique link
Enter a friendly name and press the submit button
Currently you can only have one entry per leaderboard (Arcade / Blitz)
The leaderboard will always keep your highest score
You can change your name at any time by scanning another QR code
And finally, a minor gameplay change:
When the in-game timer expires, the current piece will be placed automatically instead of losing a life (you will only lose a life if the piece can't be placed).
See y'all on the leaderboards! ✌️
Comments
Log in with itch.io to leave a comment.
Nice update! But I can't uplod my score.. there's no "Enter Name" on my page.
Hmm, are you scanning the QR Code on your device after the game over screen?
The QR code on itch just links to the main leaderboard page which won't have the "Enter Name" prompt.
(otherwise it could be a bug...)
Yes, it's the QR code on my device after game over screen.. The URL has a data code at the end. I don't know what's wrong.
Interesting, that sounds like a bug then. Could you share the URL with data code here? I'll look into it but this one might be tricky...
Alright, after much digging I found a crazy bug and uploaded a new build to itch. It's still labeled as "Version 1.2" but if you download the zip and sideload it again, it should upload to your device.
You'll need to generate a new score though, the old links are "corrupted" in a weird way.
Thanks for reporting the issue, fingers crossed the new build will fix it! 🤞
5 new levels - thats a really nice!